2023.0 Release of VehicleSim Products Are Now Available.
2023.01.16
Mechanical Simulation Corporation has announced the 2023.0 release of the VehicleSim products. The new versions of CarSim, TruckSim, and BikeSim simulation software are now available for in-maintenance users from www.carsim.com.
This release adds a terramechanics-based tire model for soft-soil conditions. The VS Math Model has been reworked for tighter interaction. The equations have been organized into four stages that can each be linked to external software or extended with VS Commands. The CarSim Simulink library includes four new S-Functions to provide tighter connections.

Customers in-maintenance may download the new software versions of CarSim, TruckSim, and BikeSim from the user section of their website.
Following are some new CarSim features:
A terramechanics-based tire model for simulating soft soil conditions
Internal model equations were reorganized into four stages that can be linked separately to external software
More arrays for exchanging information with other software at the four new stages
Four new Simulink S-Functions to support the new stages
Tighter connections with Siemens and Ftire external tire models
Support for Speedgoat RT platform
Support of Unreal with dSPACE RT
A new high-reality animator based on Unreal Engine
To learn more about the new features that are included in VehicleSim 2023.0, please review the release notes for CarSim, TruckSim, and BikeSim.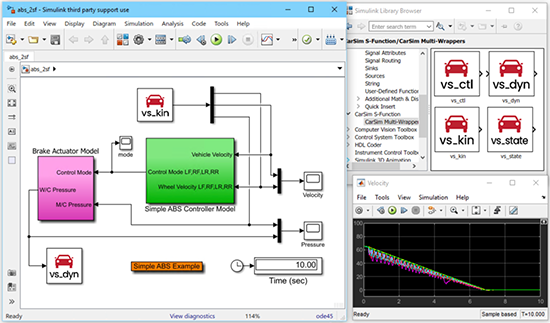 CarSim 2023.0 adds four new Simulink S-Functions to connect with four stages in the CarSim math model. The example here uses two of the new S-Functions to send kinematical information from CarSim to Simulink, then receive brake pressures from Simulink to use in the dynamics equations in CarSim, all in the same timestep
LICENSE
The 2023.0 release requires an updated license. Licenses can be automatically updated to work with version 2023.0, while remaining backward compatible. Until the license update is performed, existing licenses will not work with version 2023.0. Use the "Renew License" feature of the "License Utility" program to download the updated license file.
CYBERNET SYSTEMS MALAYSIA SDN. BHD. distributes and supports VehicleSim products in Brunei Darussalam, Cambodia, Indonesia, Lao PDR, Malaysia, Myanmar, Singapore, Thailand and Vietnam. For more information, please refer to Vehicle Simulation Products pages.
Please contact the CYBERNET team if you are looking to purchase VehicleSim products or need support with existing installations.