Time, High Accuracy. ADSTEFAN can solve all losses by all defect.
"ADSTEFAN" is a CAE system which can contribute to the decrease of trial & error, reduction of lead time, and cost reduction by analyzing the process of molten metal flow and solidification, and visualizing the process, and preventing casting defects from generating at initial stage.

Trusted CAE System

ADSTEFAN is a casting CAE system, which is researched and developed by experts gathered from many casting industries and universities including Tohoku University in "casting CAE workshop" for about seven years, and is made into a project by Tohoku Techno Arch. So, that is why the system has a high reliability by utilizing and supporting by many users.
Features
High Speed-
High Speed Simulation which can be operated in PC.
~Analyzing the various casting process by high speed and accuracy ~
Easy Operation-
Refined GUI based on the advanced technology.
~Implementing the user-friendly GUI in common platform~


Solid Foundation-
Reliability and Evolution supported by Research Institution.
~Advanced achievement by research, and technical support system~
Flow line, Cold shut

Shrinkage, Porosity


Blow hole

Injection Speed,

Temperature

Position/Size of riser

Position of Cooling


Overflow

►

Reduction of Development Time


Cost Reduction
Line-up of Module in ADSTEFAN
Fluid Flow

Gas-Liquid Flow

Sleeve Analysis

Blended Element

CIP Scheme

Surface Tension


Moving Object

Solidification

Porosity

Die Temperature

Structure Analysis

User Defined Var.

Local Pressure


Inner mold gas flow

Tilt Casting

Continuous

Centrifugal

Thermal Stress

Heat Treatment

ESR Method

Temp Data Mapping


X-ray Data Mapping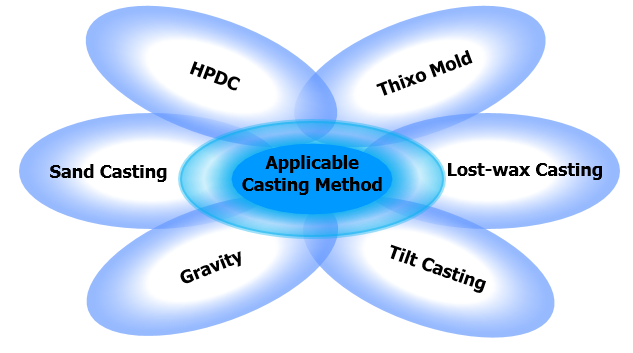 Pre Processor
Anyone can perform the analysis from reading in CAD data until setting analysis parameters due to the user friendly GUI. Auto mesh modification function is available now!
| | |
| --- | --- |
| Interface with 3D CAD data (STL format) | User friendly Integrated GUI |
| Original and ADSTEFAN Mesh Data | Integrated GUI Window |
Solver

Fluid Flow Analysis : Melt flow is simulated. Filling sequence, pressure, and temp change can be observed.


Solidification Analysis

: Macro porosity, size and geometry of shrinkage porosity are predicted.


Die Temperature Analysis

: The series of die temperature by setting of each process(Shot, Mold Open, Ejection, Blow) can be analyzed. By the setting of parting agent spray and water volume in cooling tube,

the accuracy of analysis is improved, and the effect by spot cooling can be also evaluated.


Sleeve Analysis

: Behavior of molten metal in sleeve due to the plunger movement is simulated,

and the analysis visualizes how the metal is injected from sleeve.


Gas-Liquid Flow Analysis

: Coupling flow of air and metal are calculated so that it is used for optimization of low

pressure die-casting or vacuumed casting.


Temperature Data Map

: Mapping to the result by ADSTEFAN to the FEM's mesh.


Leak Prediction

: Prediction of leak's route from location of porosity and cooling tube.


Linkage with JMatPro

: Importing material properties to ADSTEFAN's database.
Post Processor
Display of Fluid Flow Analysis Results (Temperature, Filled ratio, Velocity, Flow Volume, Pressure, Vorticity, Air entrapment, Residual Air, Surface Fold, Gate Color-Coded, Entrapped Marker, Gas Marker, Gas Volume, Max air Pressure )

Display of Solidification Analysis Results (Solidus ratio, Temp. gradient, Casting/Mold temperature, Cooling curve, Niyama Parameter, Cooling Speed, Degree of soundness, Graphite Grain Number, Solidifying Start/End Time, Pressure)

Marker display, Vector display, Contour line display, Graph display, Volume of molten metal display, Modulus display

Generation of each type of animation file, Reporting, Printing
| | |
| --- | --- |
| Fluid Flow Analysis(Misrun) | Shrinkage Porosity Analysis(Prediction) |
| Fluid Flow Analysis in Sleeve Area | Fluid Flow Analysis(Color-Coded Gate) |