As all products are manufactured with materials, to correctly select and apply materials, designers must obtain reliable analytical results based on the correct material information source. Ansys Granta can ensure accurate, consistent, traceable material information and offer the necessary tools for design, research, and teaching.
The Ansys Granta tool package consists of three main products. Each of the products aims to help the designers to select the materials smarter and more conveniently, while also completing different analytical tasks:
It's the main system for material information management in enterprises. It saves you time, reduces the cost, and eliminates the risks.
It's the standard tool for material selection and the graphical analysis of material properties. Its comprehensive database and unique software tool allow you to innovate and develop products with the right materials.
Ansys GRANTA Materials Data for Simulation
Users can easily access the material database via Ansys Mechanical and obtain the material property data required for the structural analysis, which can save you the time of data searching and conversion.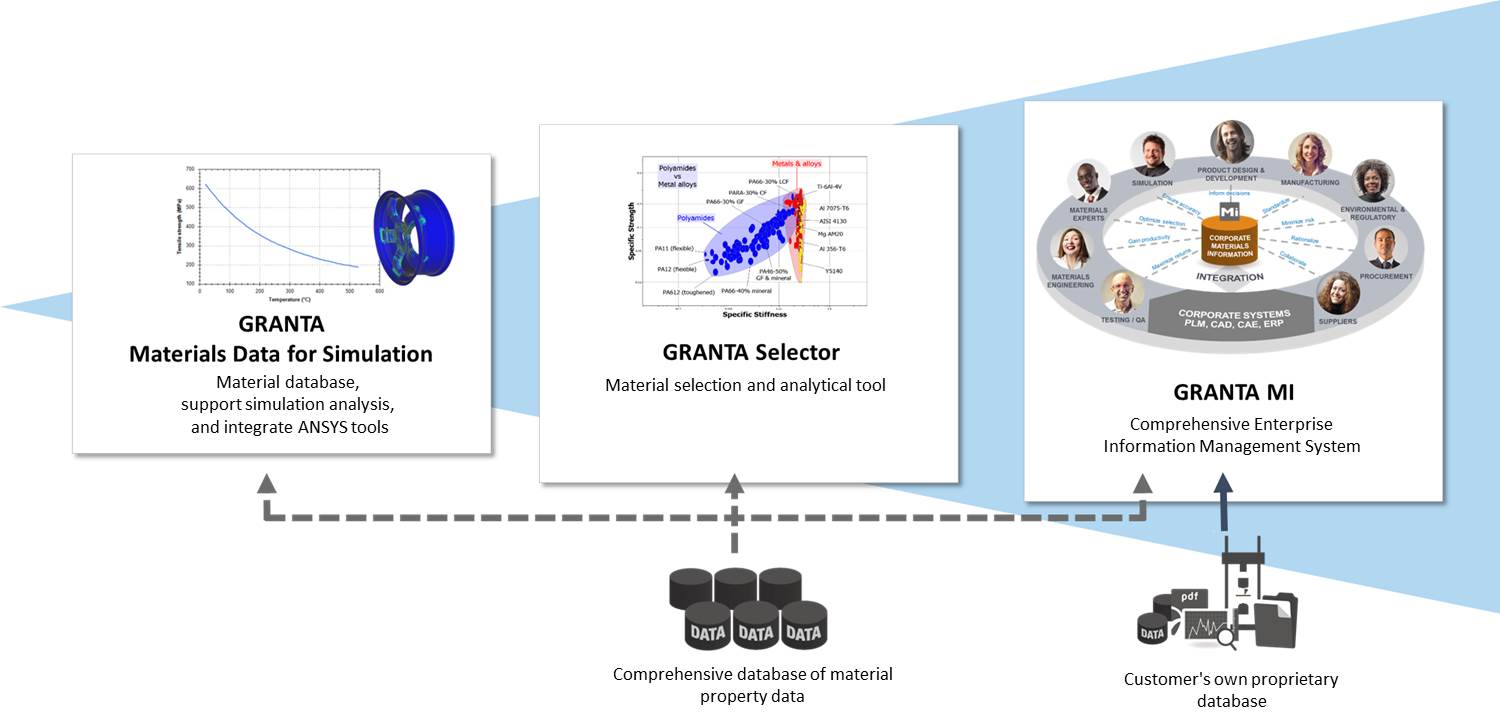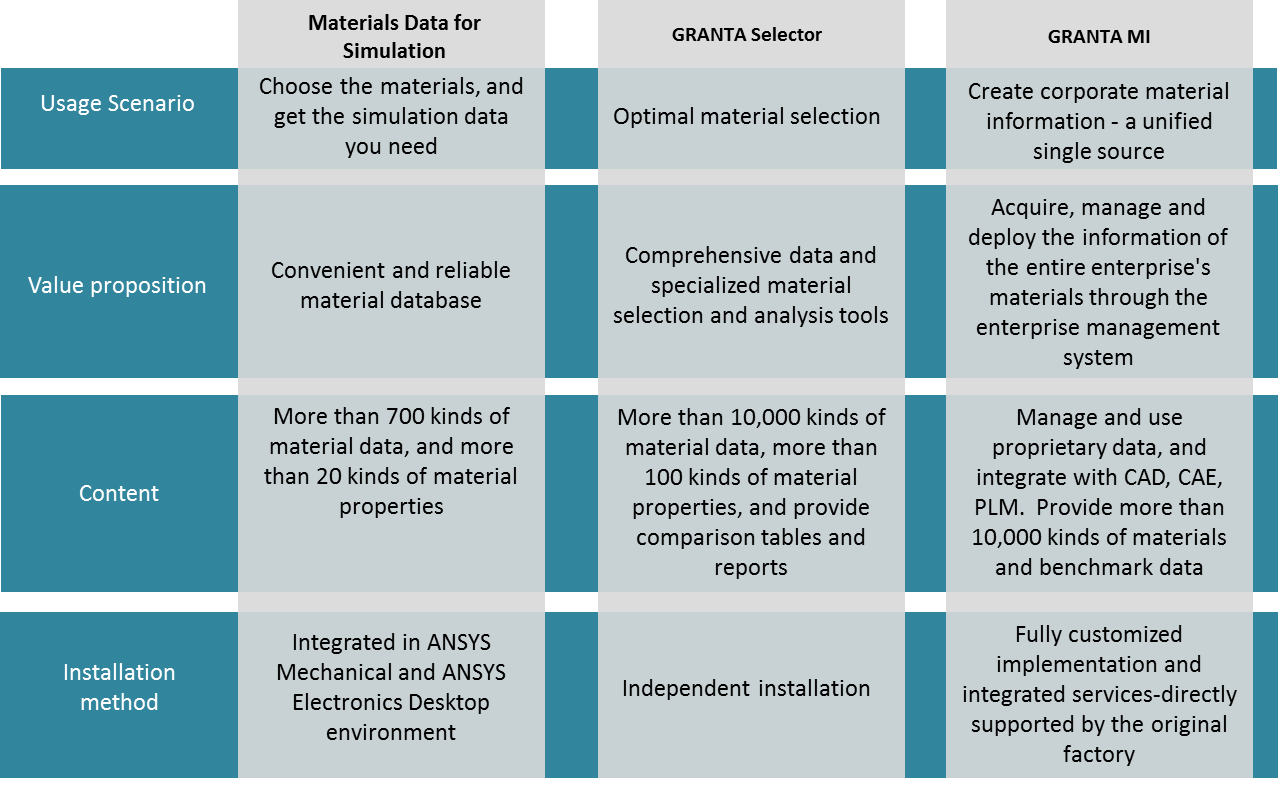 GRANTA material library map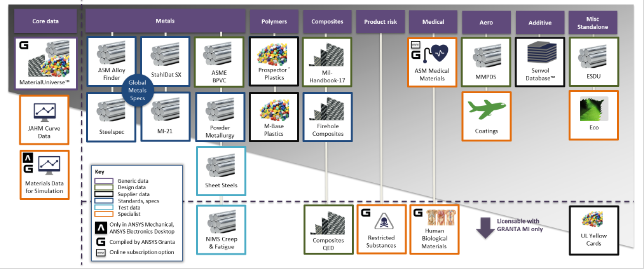 Ansys GRANTA Materials Data for Simulation (MDS)
Quickly obtain the material data required for structural and electromagnetic analysis, as Ansys GRANTA Materials Data for Simulation can be directly used in Ansys Mechanical and Ansys Maxwell.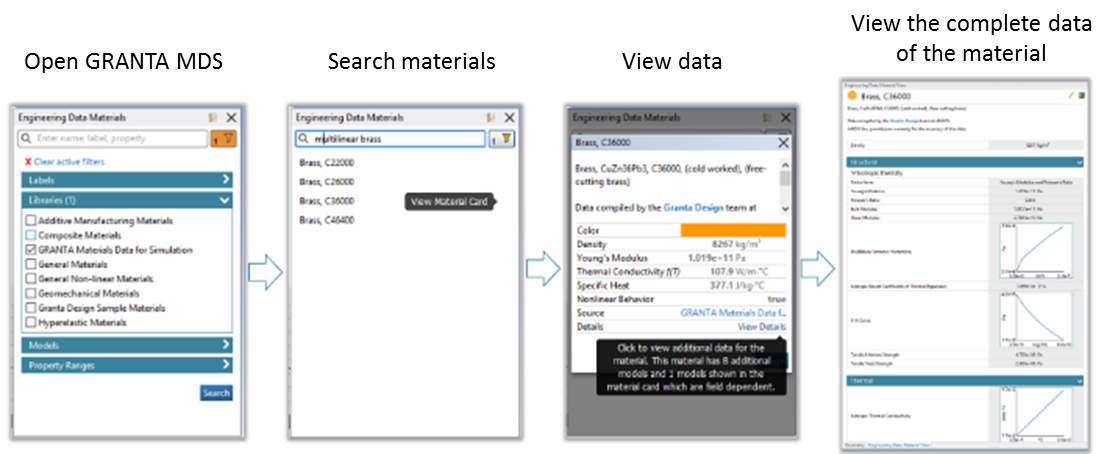 Ansys GRANTA Selector
GRANTA Selector is the industry's standard tool for material selection and graphic analysis. It's used for product design and innovation, as well as the quick identification for solutions regarding material problems, confirmation, and verification of the selected materials, which can reduce the cost of materials and development.

Ansys GRANTA MI
GRANTA MI is the industry's standard software for material information management. It compiles all the knowledge of the material used by your company, adding with all the material data organized, maintained, and updated by Ansys Granta's data product team. It makes configuration for your projects and integrates it with engineering IT, ensuring that your system is regularly updated and supported for all the changing demands, without any contradiction or inconsistency. All the history of the material activities of the company are traceable and can be re-used.