Mechanical Simulation Corporation has released the 2022.0 version of the vehicle simulation tools CarSim®, TruckSim®, BikeSim® and SuspensionSim®. This release adds several more layouts for hybrid and electric powertrains, an option for putting a powertrain on a trailing unit, and other improvements in the GUI Browser, VS Math Models, VS Visualizer, and support of third-party software.
A number of new features have been added to CarSim including Powertrain Improvements. The powertrain model adds two new hybrid electric models to an existing hybrid model. One is Series Hybrid (also known as REEV: Range-Extended EV) and the other is Parallel Hybrid. Other features include an option to install the powertrain on a trailer rather than the lead unit, a new option for providing kinematics data that more closely matches K&C conventions, an additional path follower to allow transitions between driver and ADAS intervention, new kinds of trailer joints that include another moving part.
Version 2022.0 also brings improvements for GPS to accommodate simulations involving multiple vehicles and moving objects that might be separated by significant distances and many other minor improvements in error handling, secondary calculations and support documentation. For more details about the 2022.0 version, please download the release notes from here:
CarSim
,
TruckSim
,
BikeSim
,
SuspensionSim
.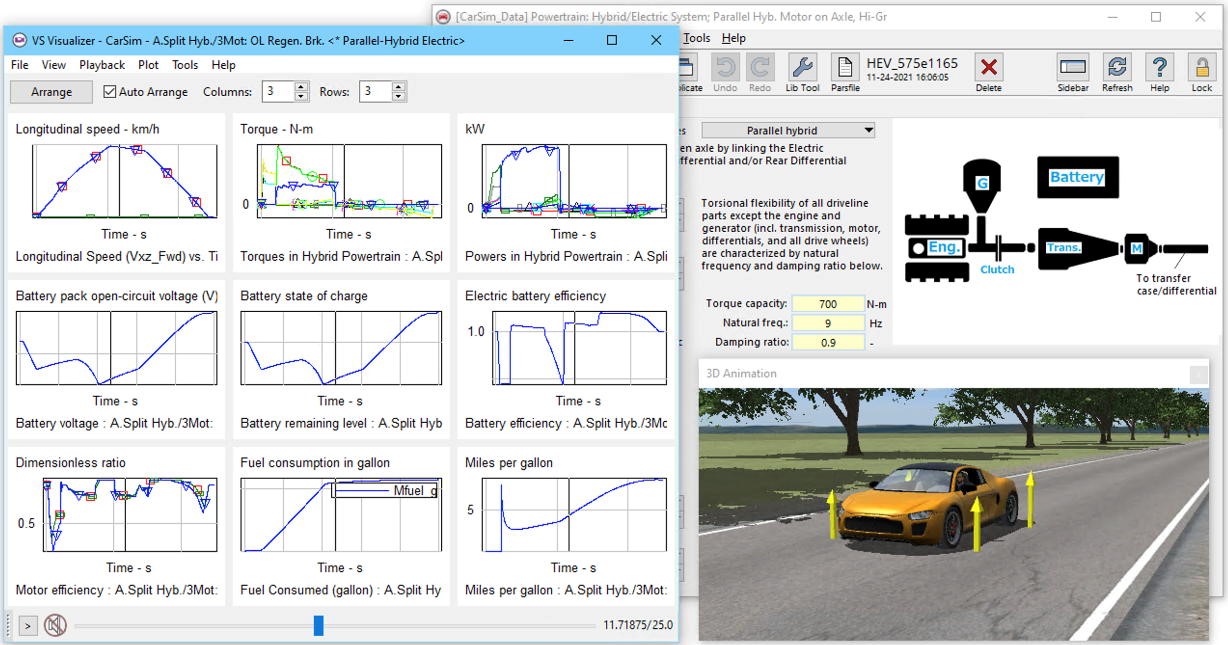 One of the new electric and hybrid powertrain modes included in the CarSim 2022.0 release.
CYBERNET SYSTEMS MALAYSIA SDN. BHD. distributes and supports
VehicleSim products
in Brunei Darussalam, Cambodia, Indonesia, Lao PDR, Myanmar, Vietnam, Thailand, Malaysia, and Singapore. For more information, please refer to
Vehicle Simulation Products
on our website.