| | |
| --- | --- |
| | LucidShape is the most powerful and advanced computer aided lighting (CAL) design software for automotive lighting design tasks. With dedicated algorithms optimized for automotive applications, LucidShape facilitates the design of automotive forward, rear and signal lighting, and reflectors. |
LucidShape New Features
LucidShape version 2019.09 includes the following new features for automotive lighting design:
New Freeform Design Feature
LucidShape's MacroFocal feature for the design of multifaceted reflectors has been augmented with state-of-the-art freeform design capabilities to provide more granular control over light spread, enabling the specification of two-dimensional light target distributions. The new freeform surface capabilities allow designers to minimize or eliminate the need for multiple rows of facets. As a result, stray light caused by gaps between facets can be minimized, flux collection is maximized, and designers can have more freedom to focus on styling and appearance. In addition, the new capabilities can simplify manufacturing-related processes such as reflector metallization and tooling.
| | |
| --- | --- |
| | |
New Pixel Light Features
LucidShape's Pixel Light features support the efficient design and simulation of high-resolution pixel light headlamps. The Pixel Light design feature streamlines the process of creating the source grid for common pixel headlight configurations. Designers can then perform a complete simulation of the model with the Pixel Light simulator, which efficiently handles a large number of pixels to produce a physically correct beam pattern.
Enhanced Visualization
The LucidShape human eye vision image (HEVI) capability has been extended to give designers more flexibility to control image brightness, contrast, and color shift. The HEVI capability is included in LucidShape's Visualization Module, which provides physically accurate photorealistic images of an automotive lighting system's unlit and lit appearance and enables designers to evaluate how the human eye will perceive a lighting system.
Key Capabilities
LucidShape FunGeo
LucidShape FunGeo is the ultimate tool to help you quickly and easily create reflector or lens geometry. It leverages proprietary algorithms that automatically calculate and construct optical geometries based on user-defined illuminance and intensity patterns. This unique, functional approach gives you the freedom to focus on overall design objectives rather than the implementation details of complex optical components.

LucidShape FunGeo includes modules to:

Create reflectors for beam pattern with a sharp cutoff line
Create profiled reflectors or refractors with an particular beam pattern
Create automotive projector lamps
Approximate or interpolate curves and surfaces
Create surfaces with lighting or optical features
Compensate ray deviations from curved lens surfaces
GPUTrace™
Accelerate LucidShape illumination simulations with GPUTrace and experience a quantum leap in speed! LucidShape is the first optical simulation software to take advantage of graphics processing unit (GPU) computing to deliver simulation speed increases by orders of magnitude compared to multithreading capabilities.
Visualize Module
LucidShape's Visualize Module delivers high-speed photorealistic images of an automotive lighting system's lit appearance, which demonstrate luminance effects when light sources in a model are illuminated. Because the Visualize Module depicts all interactions between system geometry and light sources, it provides designers with a physically correct diagnostic tool for evaluating how a lighting system will be perceived by the human eye. This is particularly important for evaluating automotive components such as turn signals and brake lights. The Visualize Module is a fast, reliable engineering tool that enables designers to perform design checks and make improvements early and often in the product development process.
The Visualize Module includes these key capabilities:
Supports environment sources for the integration of 360-degree, high-dynamic range (HDR) photographic environments into photorealistic visualizations. Includes all physical and optical properties for an immersive, accurate rendering of a lighting scene.
Combines LucidShape's luminance camera and backward ray tracing to perform rapid, high-accuracy luminance calculations and generate photorealistic images at multiple angles and viewing directions.
Harnesses LucidShape's GPUTrace™ solution to give designers the flexibility to rapidly evaluate their models at any point in the design process.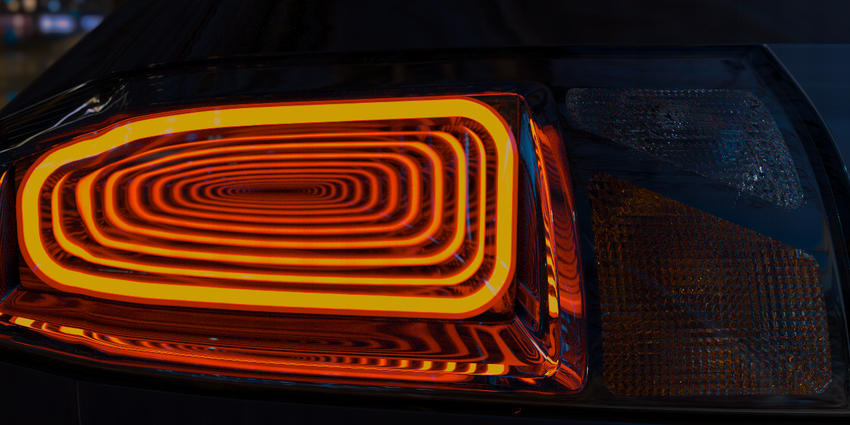 LucidCOM
LucidCOM is LucidShape's interface to Microsoft COM, which allows you to develop custom solutions to automate tasks and leverage other COM-enabled tools, such as Rhino 3D or CATIA.
With LucidCOM, you are able to instruct CATIA to perform special tasks, such as opening and saving a file or drawing a line. You can also program Visual Basic (VBA) macros in CATIA to instruct LucidShape to perform calculations with specified geometry. LucidCOM is supported by the script language LucidShell, therefore you don't need VBA scripts in LucidShape to use COM in other programs. You can even create your own LucidShape plugin with your own C++ functions.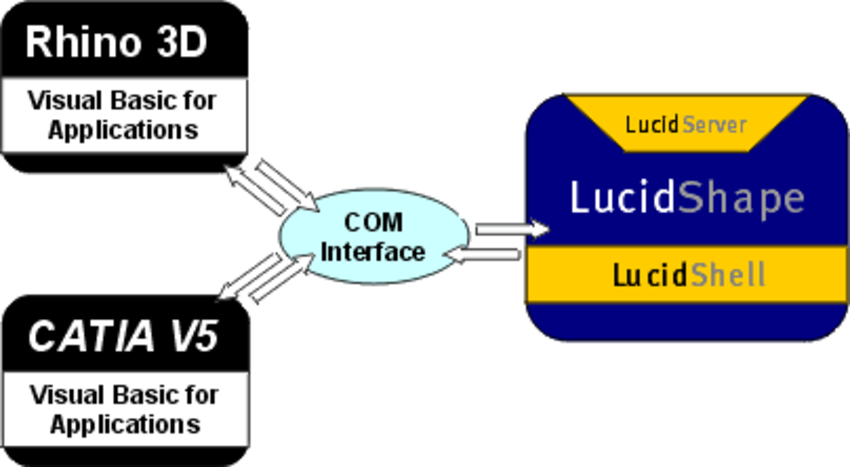 LucidShell
LucidShell, LucidShape's script interpreter, can be used to perform a wide variety of design tasks through a script procedure written in a C/C++ -like language.
You can program model geometry, optical surface properties, ray tracing, dialog boxes, and even your own customized menu. Complex geometry such as light pipes or prisms may be more easily defined in a shell script than in LucidStudio. Your own programs can be integrated with the LucidShape user interface and display as dialogs or menu items. You can easily customize your LucidStudio's user interface for your individual needs in your daily project work.
LucidObject
The foundation of LucidShell is its versatile toolbox: the LucidObject library. Objects can be created through dialog boxes in LucidStudio or instanced by function calls in LucidShell to build up the Digital Mock Up (DMU). The power of LucidShape originates from this library, which is continually expanded. The toolbox holds a rich set of different object types to define geometry, material, media, motion, simulation, tasks, behavior, interactions and utility operations.